Jefferson Center Ranch Field Day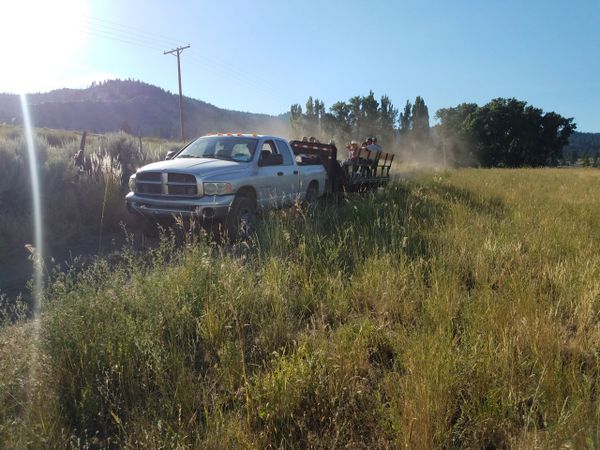 Jefferson Center Ranch Field Day

Date: Saturday, June 1, 2019
Time: 3:30 pm to 6:30
Location: Springs Ranch, 51801 County Rd. 1 Fort Bidwell, CA 96112

Host: Jefferson Center for Holistic Management

Event description: The Smith Family invites you to spend a late spring afternoon with us at Springs Ranch. We'll look at the grazing plan, talk about the outcomes of Holistic Management we've experienced on the land and in our lives, and dig into soil health.
Make a day of exploring Surprise Valley. The Springs Ranch is three miles south of Fort Bidwell. A private dinner party for field day attendees has been arranged at the Fort Bidwell Cafe, featuring Surprise Valley Grown meat and produce.
The Springs Ranch in Fort Bidwell, California is the main demonstration site for the Jefferson Center for Holistic Management, a Savory Global Network hub serving Northern California and Nevada. Visit the Springs Ranch, a certified organic ranch producing grassfed and finished beef for the local community.  Learn how the land is holistically managed using cattle as a tool to improve soil health, sequester carbon and increase biodiversity. Enjoy a relaxed, family-friendly summer afternoon on the ranch.
The ranch walk will be led by Spencer Smith, Savory Field Professional, and manager of Springs Ranch. Learn how to identify healthy soil biology and understand what healthy soil can do for your farming or ranching enterprise. Spencer worked on large ranches in Northern Nevada before starting the Jefferson Center with his wife, Abbey, and daughter Maezy. Since becoming a Savory Field Professional, Spencer has provided Holistic Management implementation support, capacity building and consulting on ranches across California, Nevada, Oregon, Florida, Georgia, Oklahoma, Missouri,Texas, Montana, Wisconsin, Massachusetts, Costa Rica, Senegal and Mexico.

Event Highlights:
Dig into soil health, literally! Shovels, microscopes, cattle, grass, management decisions. It will all be covered. Expect to get your hands dirty.

Enjoy a nourishing meal featuring Surprise Valley Grown meat and produce after the field walk at the historic Fort Bidwell Cafe. Dinner is separate from the Ranch Field Day. Please pay the Fort Bidwell Cafe directly for the meal and drinks.

Meet farmers and ranchers from across California and Nevada focused on soil health and regenerative agriculture.